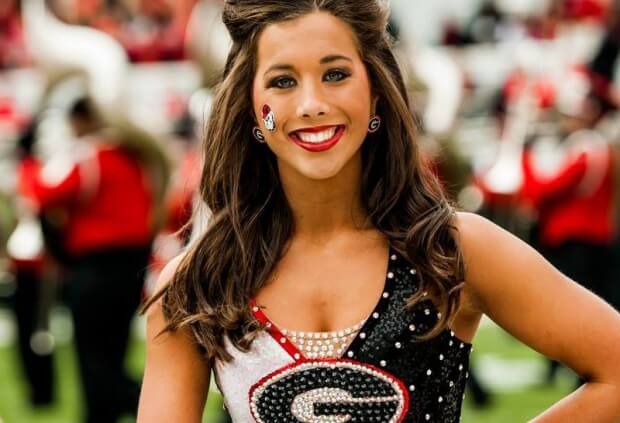 Adeline Kenerly '16 Named New Miss Georgia 2015
Adeline Kenerly '16, a UGA digital and broadcast journalism major, was recently named the 2015 Miss Georgia after Betty Cantrell, the former 2015 Miss Georgia, was named Miss America on September 13.
In addition to being a member of the UGA Majorettes, Adeline was crowned Miss University of Georgia in 2014. She is involved with Zeta Tau Alpha sorority and has held leadership roles with both UGA Relay for Life and HEROs at UGA, a student organization that raises funds for pediatric HIV/AIDS. The Jesup native also served as a member of the Student Government Association's Freshman Forum.
Adeline is continuing a long Bulldog tradition in her family. Her father, Dr. J. Lex Kenerly III met his wife, Joy Bland Kenerly, when they were UGA students in the early 1980s. Her father was a walk-on member of the football team and her mother was a UGA Majorette who twirled during three Sugar Bowls and the 1980 National Championship. Today, Lex is a member of the UGA Alumni Association Board of Directors and his company, Bone and Joint Institute of South Georgia, was on last year's Bulldog 100 list of fastest-growing businesses owned or operated by UGA alumni. The couple has raised a family of passionate and involved Bulldogs. They attend each home football game to not only cheer for the Bulldogs, but also their daughters, Adeline and Jameson. Jameson is a third-year Feature Twirler and in the Honors Program.
Adeline will be crowned Miss Georgia on Saturday, October 3 during halftime of the Georgia vs. Alabama football game.
The Miss America Organization, at the local, state, and national levels, is the largest private scholarship foundation for women in the United States. This year, scholarship assistance totaling more than $45 million was available to contestant's at all three levels. The organiztaion was established in 1921 and is a nonprofit civic corporation. The Miss UGA Scholarship Pageant is a program within UGA's Division of Student Affairs.
https://alumni.uga.edu/wp-content/uploads/AdelineonField-e1445455449881.jpg
351
620
UGA Alumni
https://alumni.uga.edu/wp-content/uploads/uga-alumni-nba-1.png
UGA Alumni
2015-09-21 14:49:31
2015-10-21 19:26:40
Adeline Kenerly '16 Named New Miss Georgia 2015