It's National Dog Day today, and what better way to celebrate than with pictures of our favorite dog? Uga was first recognized as the university mascot in 1956. Since then, football fans everywhere recognize Uga by his spiked collar and varsity lettered jersey, custom-made from the same material as the players' jerseys.
Uga X, "Que"
2015 – Present
Que served as the primary mascot for all the games of 2015, but was officially named Uga X in the game against Georgia Southern on November 21, 2015.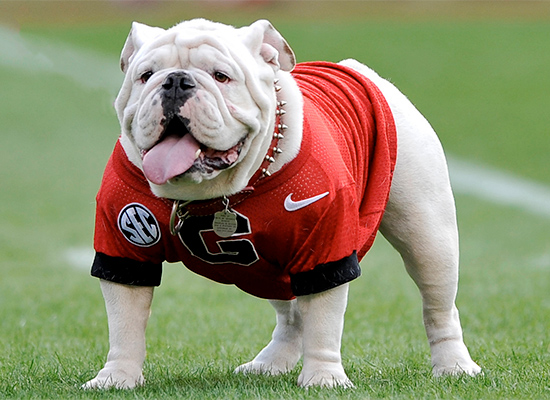 Uga IX, "Russ"
2012 – 2015
Uga IX was present for two SEC Eastern Division Championships, a Capital One Bowl win and a Belk Bowl win.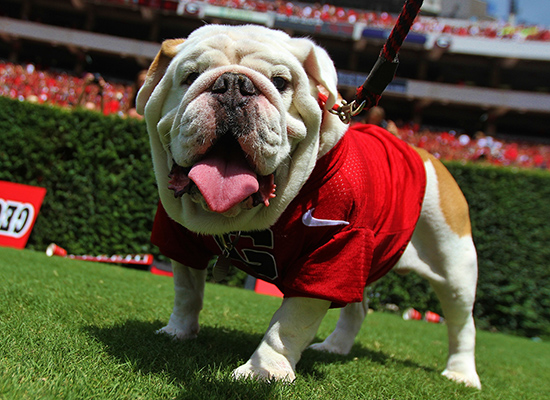 Uga VIII, "Big Bad Bruce"
2010 – 2011
Uga VIII's registered name was in honor of Dr. Bruce Hollett of UGA's School of Veterinary Medicine. Hollett was instrumental in the care and treatment of the bulldog mascots over the years. Uga VIII unfortunately had a short-lived reign after a lymphoma diagnosis in 2010.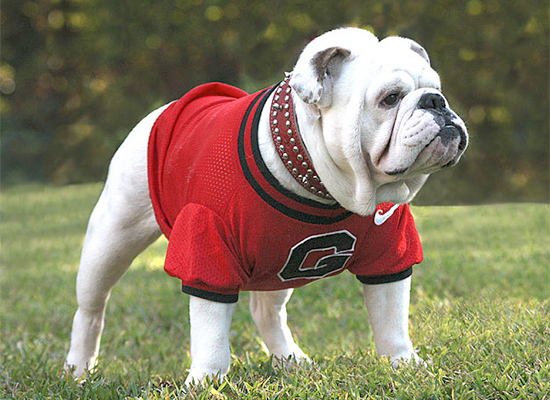 Uga VII, "Loran's Best"
2008 – 2009
After VII passed away unexpectedly in 2009, the bulldogs did not have a live mascot at the game. Instead, a wreath was placed on Uga VII's doghouse and the players wore a special Uga VII decal on their helmets in remembrance.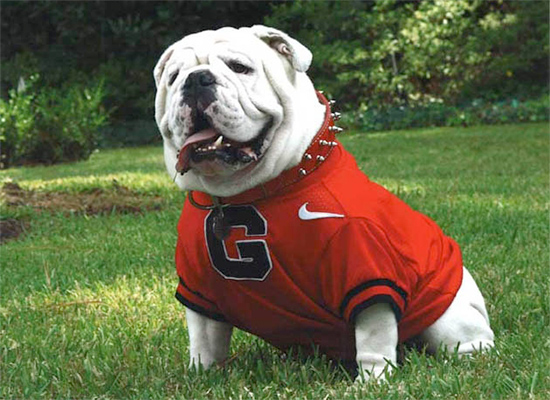 Uga VI, "Uga V's Whatchagot Loran"
1999 – 2008
Uga VI has the most wins in school history with a record of 87-27. He's also the biggest Uga the university has ever had, weighing in at 65 pounds.
Uga V, "Uga IV's Magillicuddy II"
1990 – 1999
Uga V graced the cover of Sports Illustrated in 1997 with the title of best college mascot in the nation.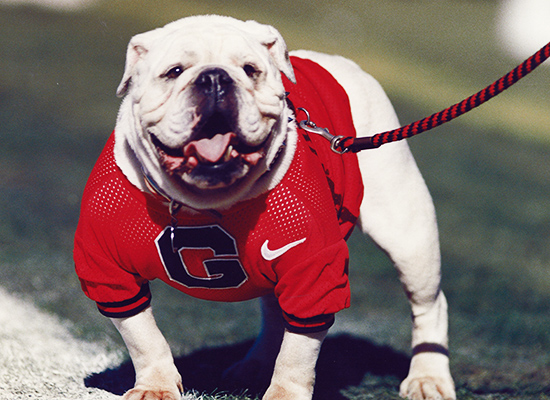 Uga IV, "Seiler's Uga Four"
1981 – 1989
Uga IV made an appearance at the Heisman Trophy Banquet with Herschel Walker. He was the first mascot ever invited to attend the Heisman Banquet!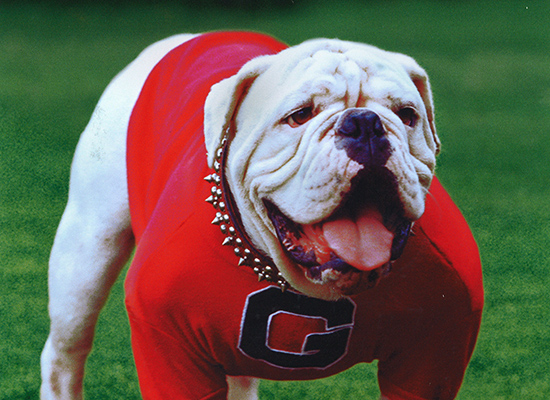 Uga III, "Seiler's Uga Three"
1972 – 1980
Uga III closed out his career in ultimate fashion leading the team to victory in the 1980 NCAA championship.
Uga II, "Ole Dan's Uga"
1966 – 1972
Uga II was introduced at a pregame ceremony at Homecoming in 1966. The entire stadium erupted in a cheer, "Damn Good Dog!"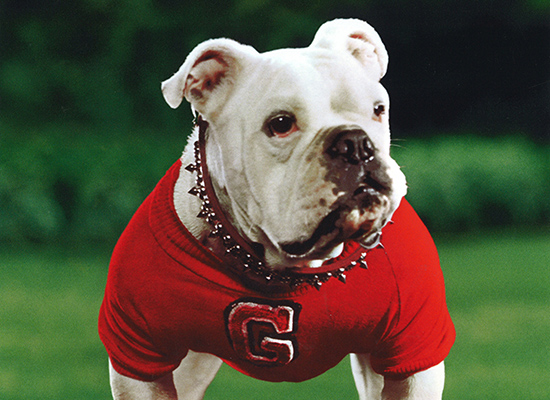 Uga I, "Hood's Ole Dan"
1956 – 1966
Cecelia Seiler, whose family breeds the succession of Ugas, made Uga I's original red jerseys out of children's t-shirts.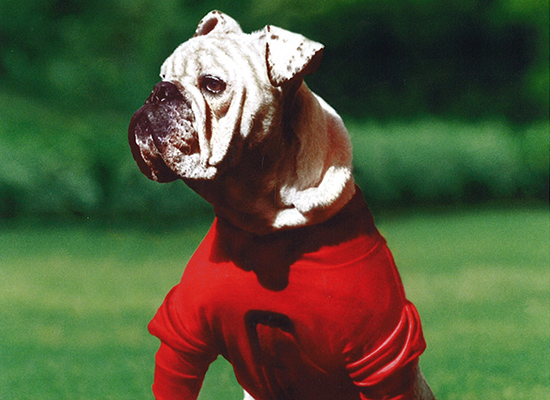 Next time you're between the hedges, be sure to take a peek at Uga's air-conditioned doghouse next to the cheerleaders' platform. You can also pay tribute to all past Ugas by visiting their memorial plots near the main gate in the embankment of the south stands. Before each home game, flowers are placed on their marble vaults.
Learn more about the Ugas from years past. 
Happy National Dog Day, or as we like to call it, Dawg Day!
https://alumni.uga.edu/wp-content/uploads/National-Dog-Day-Feature-2.jpg
500
700
Bailey Carreker
https://alumni.uga.edu/wp-content/uploads/uga-alumni-nba-1.png
Bailey Carreker
2019-08-26 06:00:45
2019-08-26 11:10:20
National Dog Day