Grab your book or e-reader for the UGA Alumni Association's Between the Pages virtual book club. The next book is Stuff You Should Know: An Incomplete Compendium of Mostly Interesting Things (released 11/24/20) by Josh Clark (M '99) and Chuck Bryant (AB '95), the duo behind the award-winning podcast Stuff You Should Know. Optional ongoing discussions of the book will take place on Goodreads and our exclusive gathering with Chuck will take place via Zoom on December 2 at 7 p.m.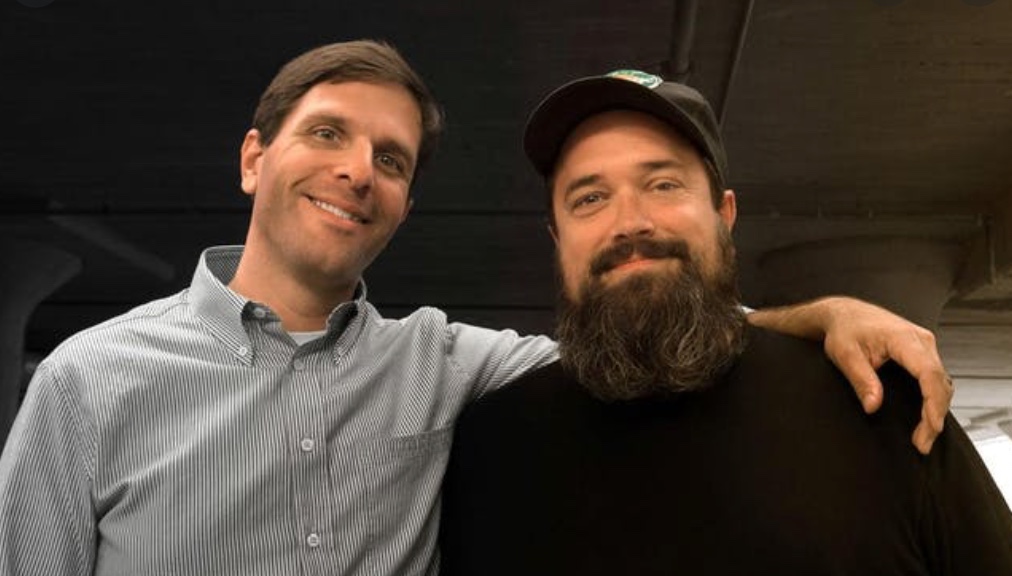 About the Authors, Chuck Bryant (AB '95) and Josh Clark (M '99)
Josh Clark (M '99) (left) has been writing since childhood, but An Incomplete Compendium is his first book. In 2008, he transitioned from writing for a living to speaking when he started making podcasts, including the long-running Stuff You Should Know and his ten-part series The End of the World. He's enjoyed being back to writing. Josh attended UGA in the 1990s with a focus on history.
Charles W. "Chuck" Bryant (AB '95) is the co-host of the Stuff You Should Know podcast and host of the Movie Crush podcast. Stuff You Should Know is one of the most popular shows in history and has allowed Chuck to spend much of his adult life researching, writing and talking about some of the most interesting topics on Earth. Chuck graduated from UGA in 1995 with a bachelor's degree in English.
About the Book
An exploration of the fun and fascinating world around us, from the duo behind the massively successful and award-winning podcast Stuff You Should Know.
Armed with their inquisitive natures and a passion for sharing, Josh Clark and Chuck Bryant are taking their near-boundless curiosity from your earbuds to the pages of a book for the first time. Follow along as they uncover the weird, delightful, or unexpected elements of a wide variety of topics, digging into the underlying stories of everything from the origin of Murphy beds, to the history of facial hair, to the psychology of being lost.
Come join them and escape into Stuff You Should Know—where you can get curious about the world around you and find the magic in the everyday. With Josh and Chuck as your guide, there's something interesting about everything ( … except maybe jackhammers). This book will be released 11/24/20; preorder your copy today!

About the Moderator
Mamie Shepherd (ABJ '13), a program manager for Seacrest Studios at Monroe Carell Jr. Children's Hospital at Vanderbilt, graduated from UGA with a degree in digital and broadcast journalism.
Shepherd's roots run deep with the Ryan Seacrest Foundation. She has worked for the nonprofit since its beginnings at Children's Healthcare of Atlanta–first as a college intern and then helping to open and manage two additional Seacrest Studios. In 2016, she helped launch the broadcast media center at Monroe Carell Jr. Children's Hospital at Vanderbilt. Shepherd oversees all aspects of the studio's operations, including programming, talent booking, broadcast development, content production, event marketing, and hosting celebrity guests. Prior to arriving in Nashville, Shepherd helped to open the Seacrest Studio at Levine Children's Hospital in Charlotte, North Carolina.
During the past decade, Shepherd interviewed some of the most influential people of our time, including musicians, actors, athletes, politicians, scientists, authors, White House correspondents, doctors, nurses, and sick and injured children. Edison Research and RAIN News named Shepherd to its "Audio 30 Under 30," she has served on the Georgia Radio Hall of Fame Board of Directors, and she was the youngest member of UGA's 40 Under 40 Class of 2015. Shepherd landed on Elevate Lifestyle Magazine's "Top 30 Under 30 Future Leaders of Charlotte" list and most recently, Nashville Lifestyles Magazine named her one of its "25 Most Fascinating People."
About Between the Pages
Between the Pages is a virtual book club series for the Bulldog community. Perfect for lifelong learners around the world, Between the Pages is an opportunity to enjoy and discuss works by alumni authors with fellow Bulldogs. There's no cost to participate. Optional discussions will take place on the social reading platform Goodreads, culminating in an exclusive virtual gathering with the author.
At the University of Georgia, we are a community of lifelong learners, committed to continued growth and to inquiring into the nature of things. We're spirited and passionate between the hedges, and between the pages, we're curious, open-minded, and ready to explore new worlds and voices.
Still have questions? Check out these frequently asked questions.