Join the UGA Alumni Association for the inaugural Attack The Day 5K on Saturday, June 20, 2020! While we cannot gather in person, we invite you to sign up and run, walk, roll or hop on a treadmill for a 5K (3.1 miles), and fill your day with Bulldog spirit!
This virtual 5K is free and open to all UGA alumni, family, and friends. This virtual "run" can be completed at any time during the date of the event—simply select your choice of exercise and complete 3.1 miles. Submit a photo of you in your best Bulldog gear and use the hashtag #ATD5K for a chance to be featured on the UGA Alumni Association social media accounts. Everyone who registers will receive a runner's bib and a certificate of participation.
Participants who are interested are encouraged to donate to the UGA Student Emergency Fund to directly support our students in need.
Who Do You Run For?
Know a senior who didn't get to experience in-person commencement? Know someone who is working on the frontlines fighting COVID-19? Are you a proud alum of your specific school/college? Our runners bibs let you write out who or what you're running for so you can get out and show your support for our Bulldog Nation.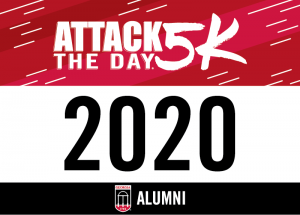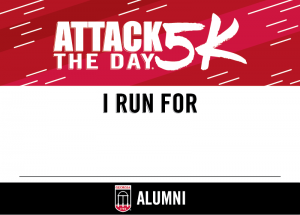 Important Links
Over the course of the month, we'll be posting recipes, route suggestions and more. Check back here regularly to find everything you need to prepare for #ATD5K!
Recent grad and former Student Alumni Council member Chris White (BSFCS '20) put together a playlist to power you through every step of your 5K!
Meet the alumni who will be hosting our special ATD5K fitness classes!
Get fueled up with some delicious, nutritious recipes from alumni!
To participants heading outdoors: what's your ATD5K route? Here are our favorite five kilometers in the Classic City.