Tasty Tailgating: A UGA Athletics Dietitian's Seven-Layer Taco Dip
Nutrition is an essential part of athletic success. Within each UGA Athletics program, a dedicated team of nutritionists works with athletes to ensure that they have the knowledge and resources to fuel themselves for success–both in and outside of their sports. 
Maria Williams (BSFCS '07, MS '09) is a sports nutritionist with UGA Athletics and has worked with swimming and diving teams, baseball, men's tennis and equestrian. Her seven-layer taco dip recipe is both delicious and nutritious–she substitutes low-fat Greek yogurt for sour cream to add protein and reduce fat.  
Read on to learn how to eat like an athlete.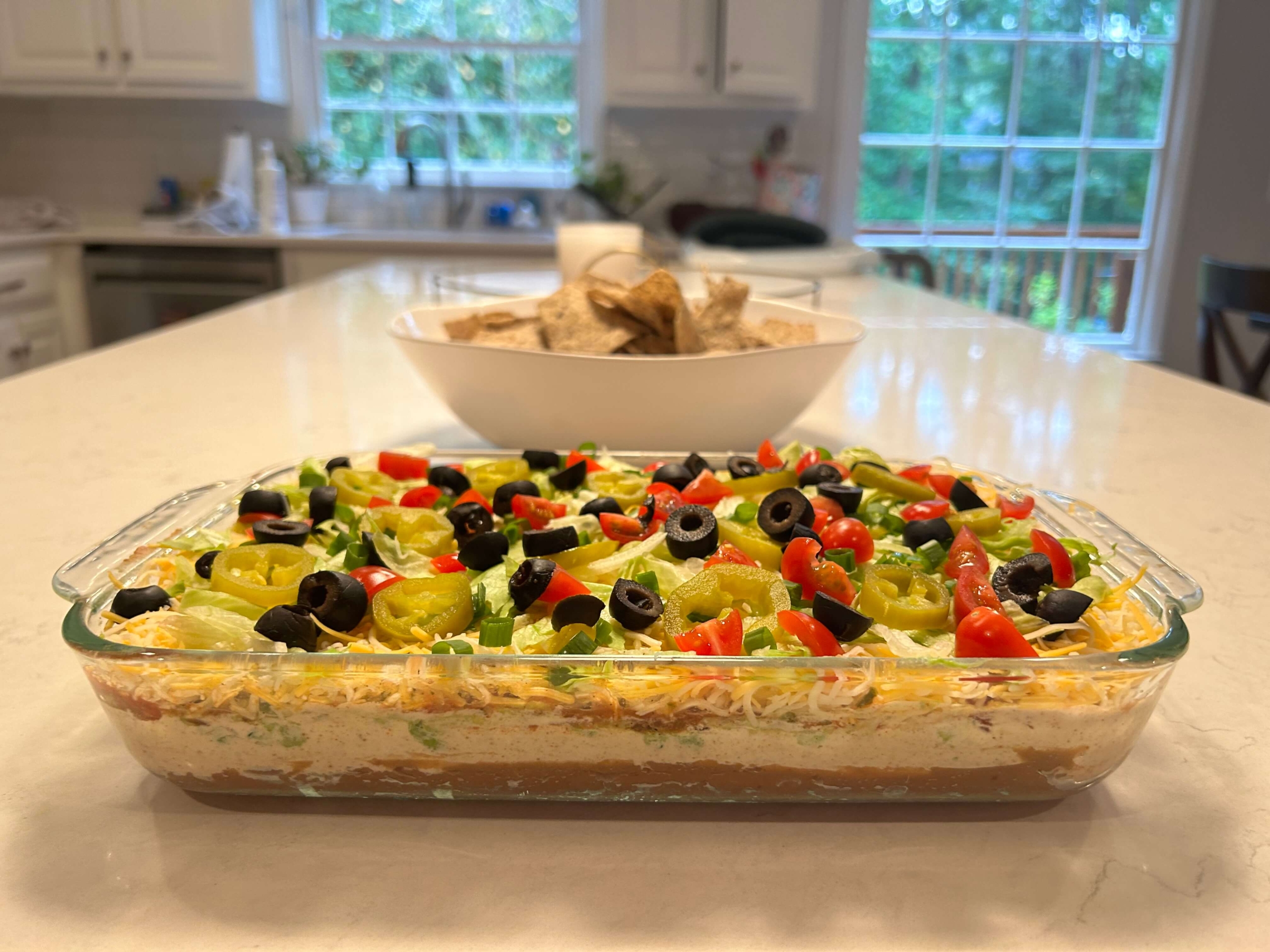 Seven-Layer Taco Dip
Ingredients
1 (15 oz) can refried beans  
1 ½ cups plain, low-fat Greek yogurt  
1 tbsp taco seasoning  
1 ½ cups guacamole (store-bought or homemade)  
1 cup mild or medium salsa  
1 ¼ cups Mexican blend cheese, shredded  
1 ¼ cups iceberg lettuce, finely shredded  
Optional additional toppings:  
1 cup grape tomatoes, quartered   
1/4 cup black olives, pitted & sliced  
2 scallions, diced  
¼ cup pickled jalapeno slices  
Instructions
Spread the bean layer in an 8×11 baking dish or similar medium sized (clear) dish. 

 

Combine Greek yogurt and taco seasoning in a small bowl, then add the yogurt mixture as the second layer. 

 

Spread the guacamole layer followed by the salsa layer. 

 

Add the remaining layers over the salsa layer in the following order: cheese, shredded lettuce, grape tomatoes, black olives, jalapeno slices, and diced scallions.    

 

Serve immediately or refrigerate and serve later. Enjoy with any type of tortilla chips. 

 
https://alumni.uga.edu/wp-content/uploads/Email-Header_1220x423px-2022-TastyTailgating-v7-1.png
1929
5083
Lindsay Tuck Morris
https://alumni.uga.edu/wp-content/uploads/uga-alumni-nba-1.png
Lindsay Tuck Morris
2023-10-30 14:52:11
2023-11-27 09:27:14
Tasty Tailgating: A UGA Athletics Dietitian's Seven-Layer Taco Dip