Tasty Tailgating: Virginia Willis's Fried Chicken-on-a-Stick
Game days lend themselves hand-held food–something you can hold and eat with one hand while you cheer and wave your pom-pom with the other. Virginia Willis (AB '88), a James Beard Award-winning cookbook author, chef and on-air personality, knows this simple fact. 
Her crispy oven-fried chicken-on-a-stick with Vidalia-honey mustard dipping sauce, then, is a delicious and convenient addition to any tailgate. It's also lower-calorie because it's baked in the oven rather than deep-fried. 
Plus, as she says, "Who doesn't like food on a stick?"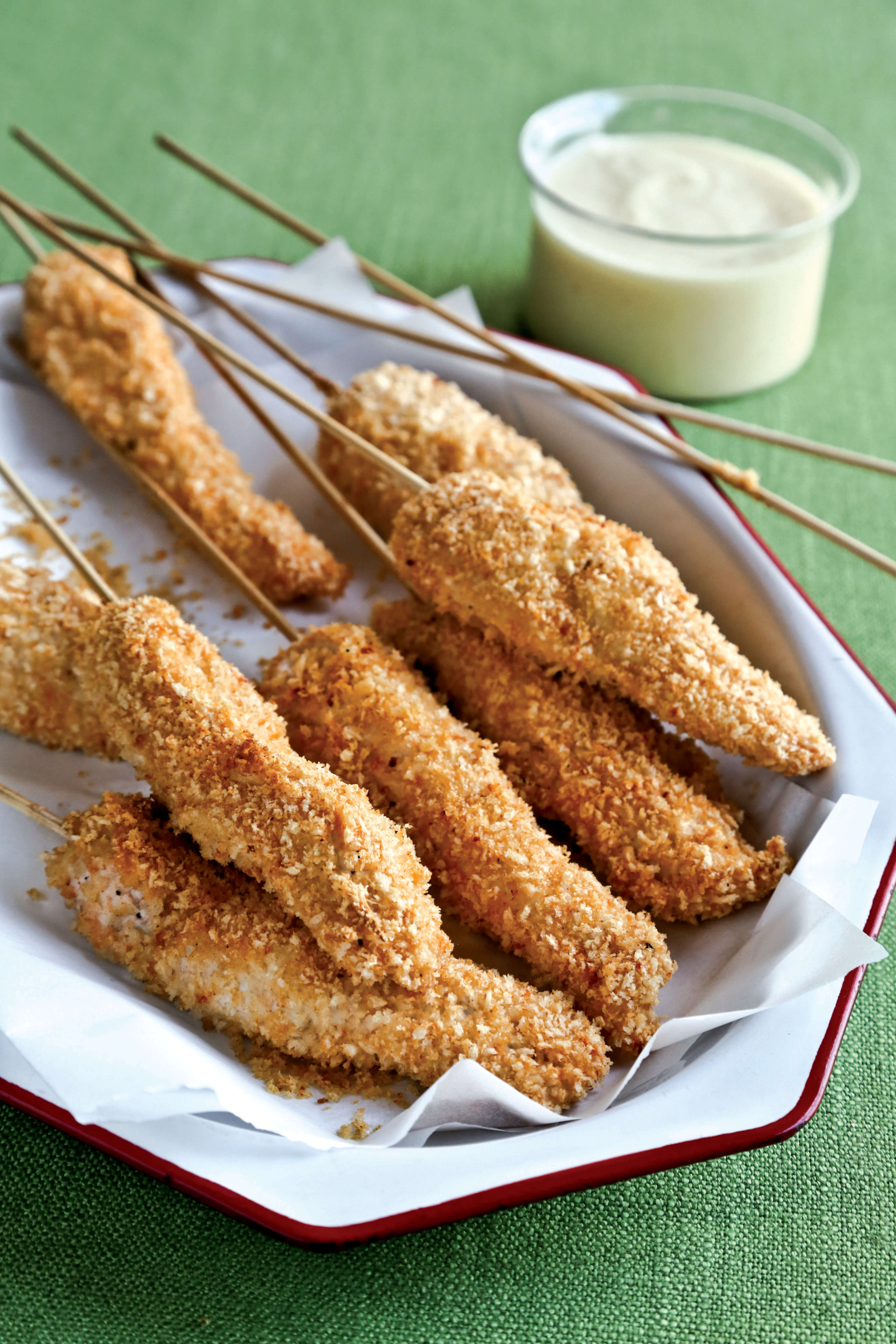 Oven-Fried Chicken-on-a-Stick with Vidalia-Honey Mustard Dipping Sauce 
Makes 16 to serve 8  
Ingredients
1 tablespoon coarse kosher salt 
2 teaspoons paprika
 
1 teaspoon onion powder
  
1 teaspoon garlic powder  
1 cup low-fat buttermilk  
3 boneless, skinless chicken breasts, trimmed (1½ pounds)  
2 cups panko bread crumbs  
2 tablespoons canola oil
  
2 large egg whites  
1 tablespoon Dijon mustard   
Freshly ground black pepper  
Vidalia-Honey Mustard Dipping Sauce, for serving (recipe follows)  
Instructions
In a large bowl, combine the salt, 1 teaspoon of the paprika, ½ teaspoon of the onion powder, and ½ teaspoon of the garlic powder. Add the buttermilk and whisk until the salt is completely dissolved and the spices are dispersed in the liquid. 

 

Cut the chicken lengthwise into about 1-inch-wide strips. Add to the marinade and let stand at room temperature for 30 minutes. (Do not marinate any longer or the chicken will be too salty. If you can't cook it right at the 30-minute mark, remove the chicken from the marinade and refrigerate until ready to continue.) 

 

In a large shallow dish (a 9 by 13-inch baking dish works well), combine the bread crumbs, the remaining 1 teaspoon paprika,
 the remaining ½ teaspoon of onion powder, and the remaining ½ teaspoon of the garlic powder. Add the 2 tablespoons of oil and toss well to coat. Whisk together the egg whites and mustard in a second large shallow dish. Season both mixtures with pepper.

 

Preheat the oven to 350°F. Line a rimmed baking sheet with aluminum foil, then set an ovenproof rack on it. Coat the rack with nonstick cooking spray. 

 

Remove the chicken from the marinade, shaking off any excess,
 and thread onto sixteen 12-inch bamboo skewers, dividing the meat evenly, about 1 strip per skewer. Dip the chicken into the egg mixture, coating both sides. Place in the bread crumb mixture one skewer at a time, sprinkle with crumbs to cover, and press so the coating adheres to both sides. Gently shake off any excess crumbs and place the skewers on the prepared rack. 

 

Bake the chicken, turning halfway through, until golden brown and the juices run clear, about 25 minutes. Serve warm with the dipping sauce. 

 
Vidalia-Honey Mustard Dipping Sauce 
Makes 2¼ cups  
Ingredients
¼ cup apple cider vinegar 
1 Vidalia onion, peeled and quartered  
1 garlic clove  
1/3 cup honey  
2 tablespoons Dijon mustard  
½ cup canola oil  
Coarse kosher salt and freshly ground black pepper  
Instructions
Put the vinegar, onion, garlic, honey, and mustard in the bowl of a food processor fitted with the metal blade. Pulse until smooth. 

 

With the motor running, add the oil in a slow steady stream until thick and emulsified. 

 

Taste and adjust for seasoning with salt and pepper. Store in an airtight container for up to 3 days. 

 
Oven-Fried Chicken-on-a-Stick  
Calories 204 
Fat 6 g 
Carbs 16 g Fiber .7 g Protein 20 g  
Vidalia-Honey Mustard Dipping Sauce (per tablespoon)   
Calories 42
 Fat 3 g 
Carbs 4 g 
Fiber .1 g
 Protein .1 g 
https://alumni.uga.edu/wp-content/uploads/Email-Header_1220x423px-2022-TastyTailgating-v7-1.png
1929
5083
Lindsay Tuck Morris
https://alumni.uga.edu/wp-content/uploads/uga-alumni-nba-1.png
Lindsay Tuck Morris
2023-10-18 08:34:29
2023-11-07 15:54:14
Tasty Tailgating: Virginia Willis's Fried Chicken-on-a-Stick