Checking in with outgoing Alumni Board President Brian Dill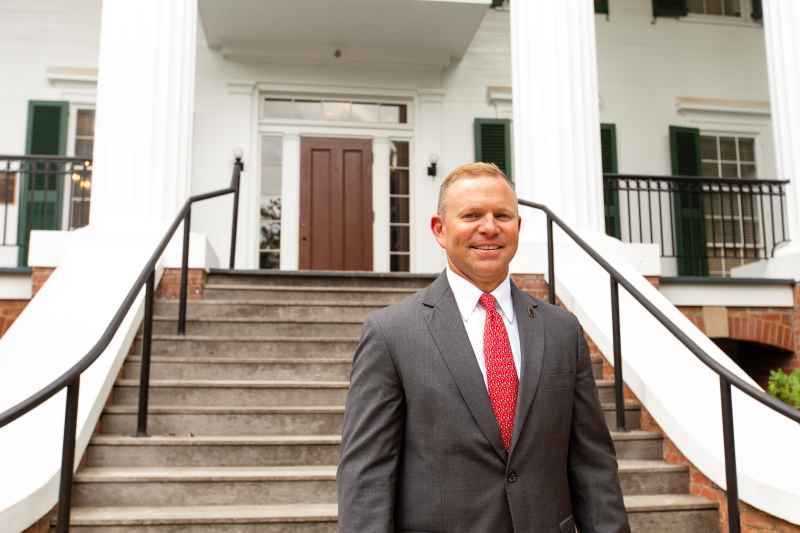 There's a group of committed UGA alumni who dedicate their time, energy and financial resources to bringing Bulldogs together year-round, worldwide and lifelong. These spirited individuals represent the diverse and passionate UGA alumni family and strive to provide feedback, guidance and leadership as the University of Georgia seeks to ensure that its graduates Never Bark Alone. Throughout the year, we'll get to know these individuals; they hail from various backgrounds and are involved in all corners of campus. Their ultimate goal: to empower the next breed of Bulldog to continue that tradition.
Name:
I live in:
Degrees:
1994 – AB in Political Science (UGA)
2019 – MBA (UGA)
I joined the board in:
What makes me most proud to be a Georgia Bulldog:
Being a part of a diverse and highly successful alumni family.
Ways I support UGA
If I had $1 million, I would support the ______ fund on campus.
My first job after graduation was
lobbying for the Atlanta Homebuilders Association
The UGA class I enjoyed most was
Southern Politics with Charles Bullock III
A moment that stood out as a UGA student was
My first game as a freshman in the Redcoat Band – the season opened with a night game in Baton Route against LSU.
My family includes:
Wife, Carmen (BSFCS '95)
Son, Mason – attending Dean College in Massachusetts
Datson/Beagle, Jake
English Bulldog, Savannah
A special connection I have to UGA is:
My wife, Carmen, and I met on campus and later married in the UGA Chapel.
As a student, I was involved in:
Redcoat Band
College Republicans
Job in the College of Agricultural and Environmental Sciences Crop and Soil Science department
My favorite place to study on campus was:
My favorite place to dine on campus was:
Tate Center – quick and easy!
On a Friday night in college, you would have found me:
Studying? Oh yeah, downtown!
Graduation was:
On a very hot day, in the morning, and we sat in the stands at the time – not on the field.
When in college, I wish I had known that:
Just because they offer you credit card deals with free stuff doesn't mean you should take them – not the best financial move back in the day!
A fellow grad who inspires me is:
Maria Taylor (ABJ '09, MBA '13), sportscaster for ESPN
A fellow student I knew who has since "made it big" is:
Brett Bawcum (BMUS '97, MM '00, DMA '17), Redcoat Band director. It's a pretty big deal to lead a band that you were a member of. Very proud of him!
Favorite UGA tradition:
Singing the Alma Mater in Sanford Stadium
When visiting Athens, I have to grab a bite at:
On gameday, you'll find me:
Tailgating on North Campus
When this song comes on the radio, I think of UGA/college:
"Georgia On My Mind" by Ray Charles
Most disliked athletic rival:
A few of my favorites:
Book: Decision Point by George W. Bush
Podcast: Andy Stanley
Band: Jimmy Buffett
TV/Streaming Show: Blue Bloods
Alumni-owned Business: Onward Reserve
Move: Smokey and the Bandit
Describe your dream weekend in Athens.
Friday night at Georgia Theatre with Kinchafoonee Cowboys, Saturday in Sanford Stadium watching the Dawgs beat the Nerds, and a Sunday brunch at Hilltop Grill listening to Jeff Dantzler (AB '07) and Kevin Butler (AB '18) break down another whupping from a Bulldog Saturday night!
No. 1 tip for a graduating Bulldog:
If you ever get an offer to work for a Georgia Tech grad … don't!
No. 1 tip for a fellow Georgia grad who has lost touch with their alma mater:
We Never Bark Alone, so get re-engaged. You will never regret it. Go Dawgs!
Brian will remain on the Alumni Board of Directors as immediate past president, so we'll still see him around – plus, as they say: Once a Dawg, Always a Dawg!
https://alumni.uga.edu/wp-content/uploads/BRIANDILL-blogheader1220x423px-2021-alumniboard-495x400-1.jpg
400
495
Elizabeth Elmore
https://alumni.uga.edu/wp-content/uploads/uga-alumni-nba-1.png
Elizabeth Elmore
2021-06-18 09:29:01
2021-07-02 12:32:54
Checking in with outgoing Alumni Board President Brian Dill