Bleeding Red and Black in Music City
When it was time for Kelly Smith (AB '00) to choose a college, she toured different schools: big, small, all girls, coed—she saw it all. However, upon stepping onto UGA's campus, her decision was made. As a political science major, she studied abroad in Verona, which Smith says taught her unique ways of thinking about the world.
Today, she works at Lighthouse Counsel in Nashville, a company owned by a fellow UGA graduate, that helps nonprofits succeed through fundraising consulting. Getting connected with the Nashville Chapter of the UGA Alumni Association helped her to meet other alumni in the city, and as president, her leadership has grown the chapter. In a conversation with Smith, she shares memories of her college experience, and imparts her wisdom on how students can get the most out of college.
What was your favorite class at UGA?
All of the classes I took while studying abroad in Verona were amazing. It might have just been the setting, but I really loved them. It was such a great opportunity. My favorite class on campus was the Intro to Political Science course that made me decide on it as my major. It was mind-opening and exposed me to so many ideas that I had never considered in the past. That was the beginning of my interest in political science.
How did you get involved with the UGA Alumni Association?
When I first moved to Nashville, before social media was a thing, I remember getting on a website and finding the Georgia Bulldog Club, which I was vaguely aware of. There was a contact here in Nashville and I asked him how I could get involved. He told me there were a few guys who go to the games together, and that if I wanted to get involved I could, so I did. I ended up tracking down people in Georgia T-shirts and stopping to talk to people with Georgia stickers on their cars—really defining what going organically means—to grow the group, and it took off from there.
What chapter event are you most proud of?
I remember we had a tailgate for Vanderbilt five years ago that was packed—I mean jam-packed. Locals, out-of-towners, UGA employees and people from Athletics were all there.  What was neat was that we had a connection with someone who was selling condos that weren't open yet, so they gave us full range of the whole facility and pool for the tailgate. We probably had 300 people there, and of course the Alumni Association helped us out a ton. Another one that we have done for years is a water station at the Country Music Marathon. It's good visibility and marketing for us, and it's also great from a volunteering standpoint that we can help out.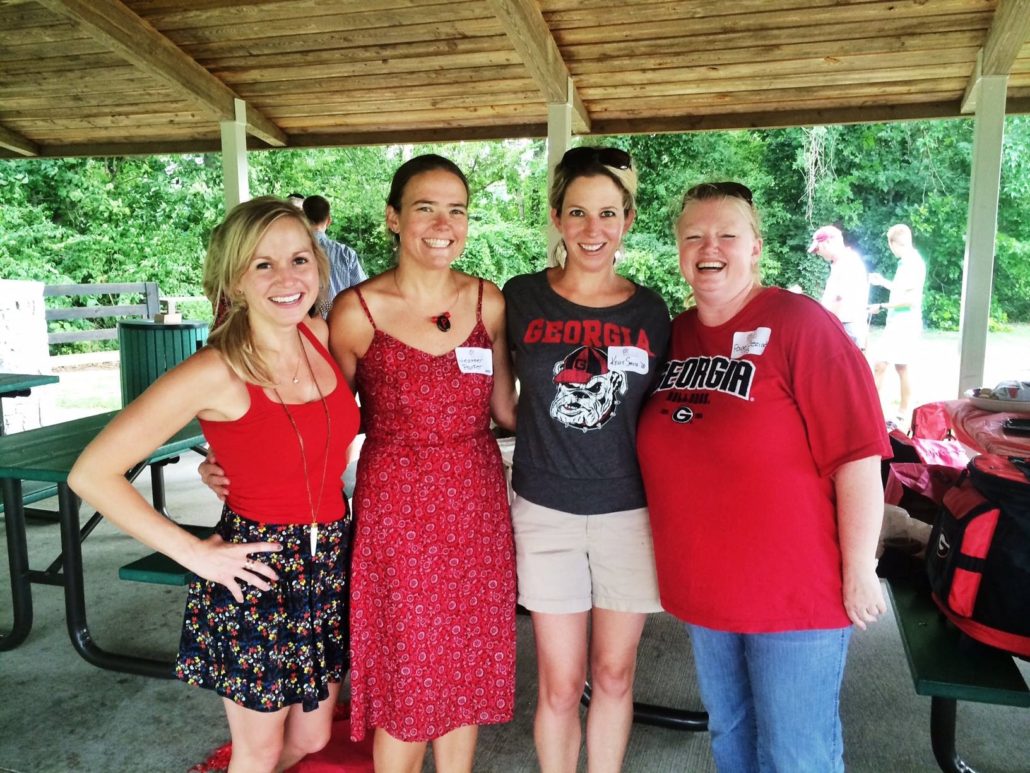 What is your favorite thing to do in Nashville?
Eat. We have the best restaurants and new ones open all the time. I have a mason jar full of Post-it notes of restaurants that I want to try. I like to try all the new chefs since a lot of them come from Atlanta and beyond. We have great food!
What advice would you give to graduating seniors and recent graduates?
Get uncomfortable. Reach out, network and pick up the phone to call people. I get emails all the time. Emails are great, but I think there's value in getting uncomfortable and putting yourself out there to grow your circle of friends and connections.
This blog was written by Nellie Pavluscenco '18, intern for DAR Communications. 
https://alumni.uga.edu/wp-content/uploads/Nashvillechapter1.jpg
640
960
Jamie Lewis
https://alumni.uga.edu/wp-content/uploads/uga-alumni-nba-1.png
Jamie Lewis
2016-10-24 09:00:37
2017-06-05 15:52:49
Bleeding Red and Black in Music City