"Whisperin" Bill Anderson (ABJ '59) Autobiography Release
Before becoming a country music song writer, Grand Ole Opry member, Country Music Hall of Fame member and now author, Bill Anderson (ABJ '59) was a journalism student at the University of Georgia. Anderson grew up in Commerce, Georgia, then moved to Nashville to pursue a career in song writing after graduation. Once in Nashville, Anderson found his success. Anderson has now released more than 40 studio albums, written nearly 30 Top 10 hits and had seven of those become No. 1 singles. Some of these hits include "Whiskey Lullaby" (Brad Paisley/Alison Krauss), "Give It Away" (George Strait) and "A Lot Of Things Different" (Kenny Chesney). He also won Songwriter of the Year six times. Anderson was the youngest song writer to be named as Songwriter of the Year at age 23 before Taylor Swift appeared many years later and won the same award at 21. Anderson recently celebrated 55 years of membership in the Grand Ole Opry. Anderson is the only song writer to have affected generations and have a Top 40 hit in seven different decades.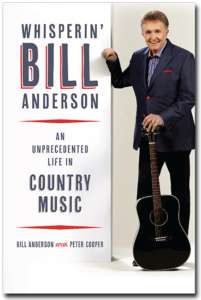 Recently, Anderson visited UGA's campus to promote his new autobiography, Whisperin' Bill Anderson, An Unprecedented Life In Country Music. His book became available to the public on September 1. In the book, Anderson recounts memories from his childhood in Commerce, Georgia, and his time at UGA. The book allowed for Anderson to describe some of his favorite memories, like meeting Elvis Presley. The book recounts a period in Anderson's life when he thought he was going to stop writing songs. Anderson struggled with the feeling of not have anything relevant to say to the younger generations. Thanks to a friend who encouraged Anderson to continue writing, Anderson found his purpose and passion again. Following this lull, Anderson produced one of the most notable songs of his career, "Whiskey Lullaby" for Brad Paisley and Allison Krauss. Anderson's book can be purchased nationwide.
https://alumni.uga.edu/wp-content/uploads/bill-anderson-e1473971976851.jpg
844
1500
Emily Middleton
https://alumni.uga.edu/wp-content/uploads/uga-alumni-nba-1.png
Emily Middleton
2016-09-23 09:47:47
2017-06-16 15:30:17
"Whisperin" Bill Anderson (ABJ '59) Autobiography Release