Bulldogs turned documentary filmmakers
As students at UGA, Shauyan Saki (ABJ '15) and Joseph Winkenwerder (BBA '15, AB '15) partnered together to shine the spotlight on fellow Bulldog and UGA basketball player Dusan Langura (AB '15). Together, Saki and Winkenwerder produced a documentary that focused on Langura's personal journey to UGA. Before coming to UGA, Langura, a native of Switzerland, served his country and was injured by a bomb, tearing his ACL among other injuries.
Jamie Lewis (AB '12, AB '12) recently interviewed Saki and Winkenwerder to learn more about this project and its inspiration.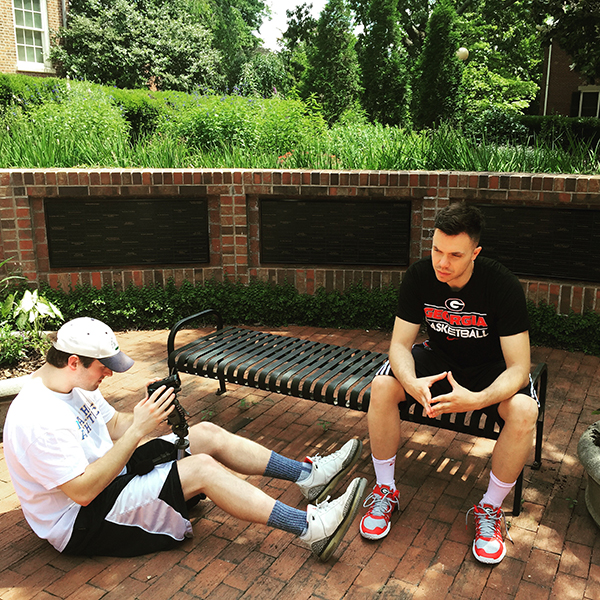 Have you always been interested in documentary filmmaking? How did the two of you connect and discover your shared interest?
Saki: I've always loved sports documentaries and played multiple sports growing up. I'm the type of person that has to watch the new 30 for 30 specials on ESPN as soon as it airs. Joe and I have known each other since freshman year, and we both have a passion for sports and watching sports and movies. When we talked about Dusan's story, I couldn't think of anyone better to direct it
Winkenwerder: Documentary filmmaking has always been a field I wanted to explore. As a teenager, I was very fond of cinéma vérité – particularly skateboarding, music, and sports documentaries. When I arrived at UGA, I only wanted to pursue a business degree. During my sophomore year, I took an introductory film class and became passionate about the art again. Shuayan and I love sports. We both played varsity sports in high school. Because I was studying business and film, and Shuayan was pursuing his degree in journalism, the idea of a sports documentary was very fitting for the both of us.
Dusan Langura's story is pretty incredible. How did you learn about him and get connected to work on the documentary? 
Saki: I had a class with Dusan in January 2014. We worked on a couple of projects and we over our shared love for basketball and how both our families come from outside the United States. When he told me his story, he was in the middle of his recovery and I was inspired by his positive attitude and determination. Most people who've been injured at Dusan's level would give up their dreams, but Dusan was completely different. He told me that when he first arrived at UGA, he had multiple inquires by major news outlets to interview him and tell his story, but he didn't want to distract the team or make himself stand out in any other way other than basketball and academics. So when he asked me to make a documentary that would preserve the integrity of his story, it was simply an offer I couldn't refuse.
Winkenwerder: Shuayan first mentioned Dusan's story to me after a class they had together in 2014. Shuayan went into great depth about Dusan's background: growing up in Switzerland and Montenegro, his love for basketball, and most importantly, his comeback to the game after sustaining an injury in the military. I was immediately enthralled by the idea of making a documentary about Dusan's journey to the states and the rehabilitation process he went through. Shuayan got in touch with university officials to get clearance and then we began to build the narrative.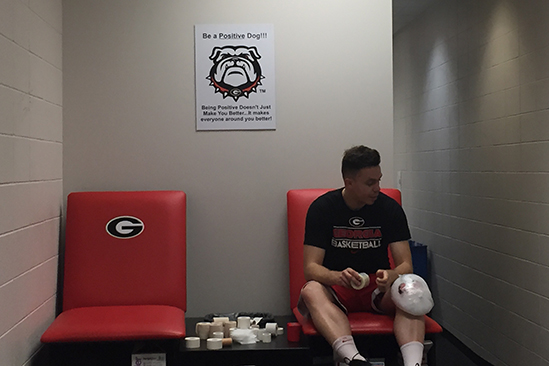 For those that don't know, can you give me a brief summary of Dusan's story?
Saki: Dusan served in the Swiss military after completing high school with a walk-on offer from UGA. He was injured in an accident while serving and injured his knee (complete tear to his ACL and MCL) and fractured his skull. The story is about how Head Basketball Coach Mark Fox and staff honored their commitment to Dusan and his recovery.
What are your goals for the documentary? 
Saki: My goal is for people to enjoy the film. We worked hard on it and I hope people who watch it understand the process that Dusan went through and gain some insight and inspiration.
Winkenwerder: We originally drafted a script that incorporated more of Dusan's teammates at UGA. Because we had a short amount of time to work with and players had rigorous schedules, we had to adjust and simplify the narrative, focusing more on Dusan, UGA, and his recovery. Overall, I was quite pleased with the results.
You both graduated from UGA in 2015. What are you working on now? 
Saki: I graduated with a degree in journalism. After we finished filming, I got a job offer with AT&T in their Leadership Development Program, had an opportunity to continue my career with AT&T and eventually relocated to Los Angeles in January 2016. I work with small businesses and it's been a great experience so far. That being said, I am still interested in film and sports documentaries. It will always be a passion.
Winkenwerder: I am currently interning at Georgia Public Broadcasting (GPB) on the Lawmakers political show. My goal is to eventually work my way up to producer and/or director position, but the business world remains a strong passion of mine, too.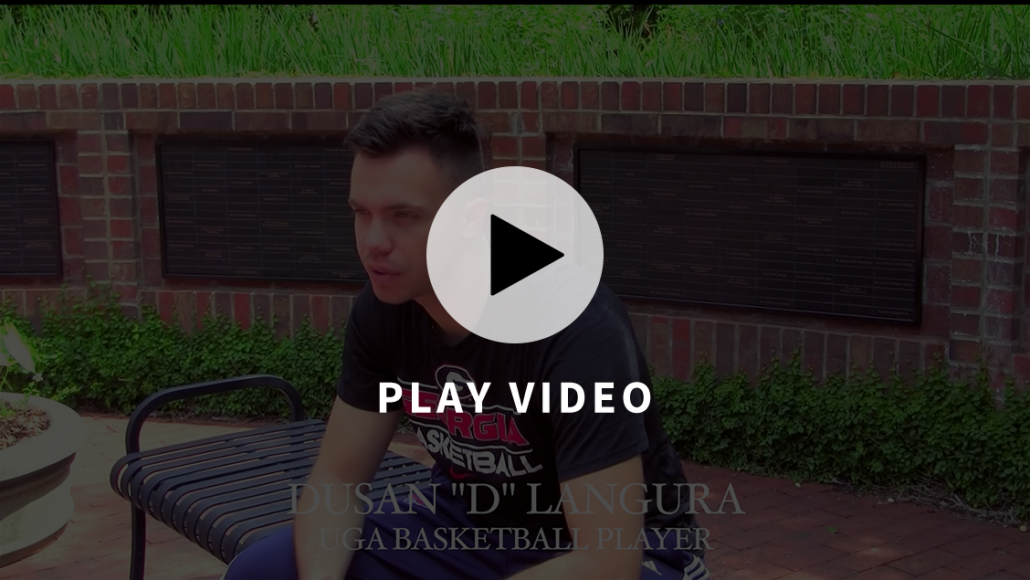 Are you a graduate of the University of Georgia? Please take a moment and update your information!
https://alumni.uga.edu/wp-content/uploads/feature-tile.jpg
788
1400
Jamie Lewis
https://alumni.uga.edu/wp-content/uploads/uga-alumni-nba-1.png
Jamie Lewis
2016-03-07 13:05:43
2018-06-14 10:32:57
Bulldogs turned documentary filmmakers