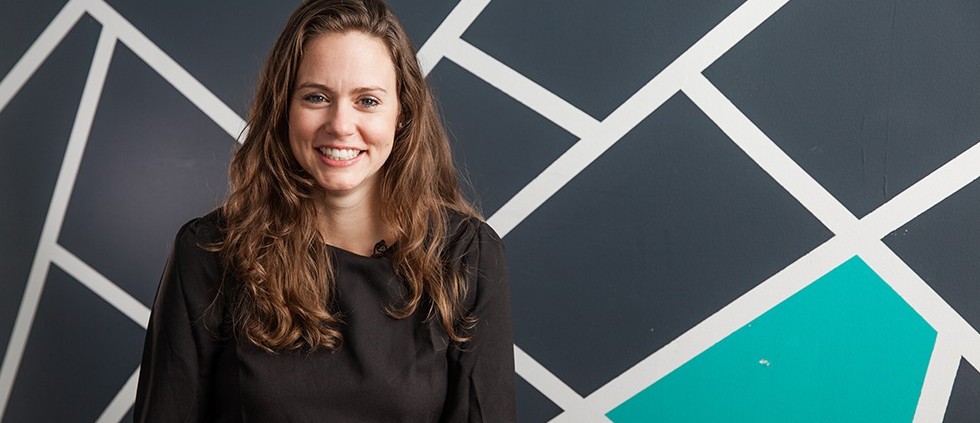 Alumna Spotlight: Christina Sass (AB '02)
Since graduating from UGA, Christina Sass (AB '02) has led a successful career in the for-profit and nonprofit world. Her passion for empowering others inspired her to co-found Andela, a global talent accelerator that produces world-class remote developers and connects them with top employers. Andela finds the brightest young people in Africa and gives them the training and mentorship to thrive as full-time, remote developers for companies around the world.
The UGA Alumni Association's strategic communications intern, Emilie Clarke '15, had the opportunity to catch up with this outstanding alumna:
Tell me a little bit about Andela. Where do you see the company in five years?
Andela began as a pilot of a model that I've been dreaming about finding for years — a scalable way for brilliant young people living in places where economic opportunities are scarce to receive training and employment that leads to lifelong careers without debt and without leaving home.
At Andela, we find and train these young people – starting in Lagos, Nigeria – to be world-class remote web developers. We are unlocking the world's untapped human potential and creating a talent pipeline for global industries, most of which struggle to find tech talent. With more than 10,000 applications coming in from across Africa to participate in the program and with 100 percent client retention so far, I'd say we are onto something!
Walking into the Andela office in Lagos, Nigeria and seeing 70 people (25 percent young women) who have a new career path and who feel like a family because of Andela — that is my proudest career accomplishment.
In five years, we plan to scale, scale, scale. I foresee us having centers in Kenya, Ghana, South Africa and others across Nigeria. I foresee companies viewing us as the go-to place for world-class software developers. They can feel great about hiring through Andela because of the social impact.
Christina Sass (AB '02) at an Andela exposé
How did your time at UGA help you achieve your goals? Did you have a favorite professor or class?
I met a group of friends in Myers Hall that are still some of my closest friends in the world. We all spent the millennium New Year's Eve together and have spent every single New Years together since 1999. You read that right – 15 years of dear friends who meet annually to watch UGA bowl games and to ring in the New Year together. Individuals from that group are now teaching literature at top high schools. They are teaching media and communications at UNC and philosophy at Purdue. They are city planning for Los Angeles. They are professional musicians who got their start in Athens. They are dear friends who have shaped me personally and professionally since we were all at UGA.
My favorite professors were Dr. Loris Magnani in Astronomy and Physics and Dr. Edward Halper in Ancient Philosophy. Both are still st UGA. If you are a student, stop what you are doing and sign up for their classes immediately.Dr. Magnani's classes left me in awe of the universe. Dr. Halper made Plato, Aristotle, Socrates, and Maimonides come alive and showed how their work can guide our everyday lives.  Personally, his own life exemplified how unity and purpose in one's thinking and one's action shape a life well-lived.
You are being honored by the New York Business Journal for its Women of Influence Award. Who are some influential figures in your life? Where do you draw inspiration?
My father, Jurgen Peter Sass, is the greatest inspiration in my life. He left post-war Germany at twenty-two with only a suitcase and $200 and built a meaningful life. He instilled in my brother and me, the way that only a German can, that education would be the greatest determining factor of the quality and richness of our lives. We had Aristotle and FDR quotes on our fridge. We debated literature and politics over long dinners. We traveled and studied the geography and history of new places as a family. He fueled my endless curiosity about the world and gave me the initial courage and street smarts to travel everywhere!
I have also had the privilege to meet and work with vibrant young people across the globe who fight to get an education. From my first campers at the YMCA in Athens to my current Fellows at Andela who are teaching me to code, young people who hustle and succeed against all odds inspire me every day. At Andela we call this #allheartallhustle.
What advice would you give to future graduates or young alumni looking to create global impact?
Find the overlap between what you are passionate about and what the world needs most. Start with the Millenium Development Goals or focus on job creation in areas of highest unemployment. Doing what feels good is not enough. Don't side-step the hard work of researching what really works: what is scalable and sustainable, what is safe for local communities, and what is aligned with what local communities need and want. Do the research and then go apprentice with those who are doing it best. Listen when you are out in the field. Have hundreds of cups of tea and just listen. Never stop asking yourself if this is truly the best (most efficient, most effective) way to solve the problem you are trying to solve. And no matter where you go – even to the farthest corners of the earth- never stop loving the Georgia Bulldogs.
The UGA community is proud to call Christina a member of the Bulldog family.
Visit Andela's website to learn more.
https://alumni.uga.edu/wp-content/uploads/christina-sass.jpg
480
980
Sarah Rose
https://alumni.uga.edu/wp-content/uploads/uga-alumni-nba-1.png
Sarah Rose
2015-04-03 18:52:22
2016-02-10 15:27:30
Alumna Spotlight: Christina Sass (AB '02)