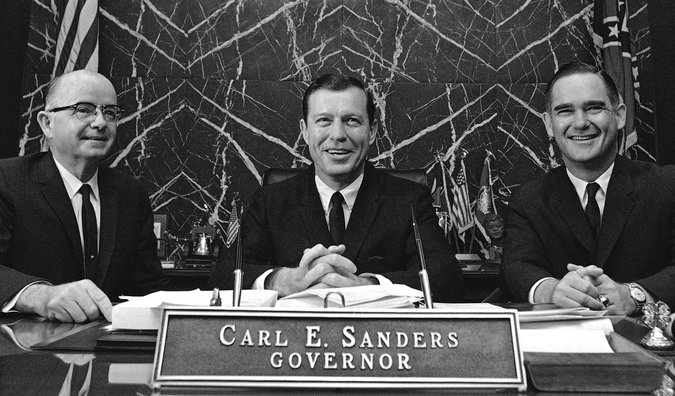 In remembrance of Carl E. Sanders (JD '48)
Former Georgia Governor and former UGA Alumni Association President Carl E. Sanders died Sunday. He was 89 years old.
In 1942, Sanders (JD '48) enrolled at UGA on a football scholarship. He left for a short time to fight in World War II, flying a bomber he named "Georgia Peach." He later returned to UGA and played quarterback for the 1945 football team that won the Oil Bowl. His time at UGA launched a relationship with the state's flagship institution of higher education that would span more than 70 years.
Sanders was elected to the Georgia House of Representatives in 1954, served three terms in the Georgia Senate and was elected governor in 1962. Known as "Georgia's Education Governor," Sanders oversaw investments in education and training programs, as well as public universities that totaled in the billions. UGA was one of the main recipients of these investments, resulting in a dozen new buildings and a faculty that doubled in size.
Governor Sanders was a staunch supporter of UGA's School of Law. He was instrumental in gaining state funding to expand the law school building that included space for a law library. After leaving office, he personally donated $1 million to the law school to establish an endowed professorship.
He has been president of the Law School Association, served on the school's Board of Visitors, and headed the fundraising campaign to build Dean Rusk Hall. He donated his gubernatorial papers, photographs and other memorabilia to the library. He also served as a trustee of the University of Georgia Foundation and was president of the UGA Alumni Association Board of Directors from 1969 to 1970.
The UGA Alumni Association is saddened to hear of the passing of former Governor Sanders. Our thoughts are with his family and other loved ones.
https://alumni.uga.edu/wp-content/uploads/SANDERS-obit-master675.jpg
396
675
Sarah Rose
https://alumni.uga.edu/wp-content/uploads/uga-alumni-nba-1.png
Sarah Rose
2014-11-17 11:39:06
2016-01-26 11:43:54
In remembrance of Carl E. Sanders (JD '48)